Like most teachers, I'm in denial that the summer is coming to an end and its time to be thinking about setting up my classroom and getting ready for another year. Luckily not all teachers are like this, as a friend of mine asked if I could make crate seats for her classroom. I jumped at the chance - it gave me a project to do and I wasn't the one paying for it! It fit perfectly into my spending freeze :)
The process was simple enough, albeit a bit tedious. We purchased two 2 x 4 foot pieces of plywood, two bags of mid-loft batting, and 2.5 yards of fabric. The most time consuming part was cutting the plywood to fit perfectly on the ledges of the crates. I measured the openings and ripped the plywood down to roughly 12.5 by 15.5 inch rectangles. Listening to the advice of my husband, I used a spare 2 by 4 as a guide to run my circular saw against. This helped me make cut straight lines.
not my friend
tricky. Basically, pretend you're wrapping a present and tuck the fabric and batting in and then put some staples in there quickly before it unravels. Ok, maybe its not that dramatic. Repeat this six times, and I had this:
These would also be really great in a playroom at home with little ones. Anything that doubles at storage is great in my book!
Do any of you teachers have similar things in your classroom? I am starting to get excited about getting into school to set-up my classroom. Who is with me on that one? Anybody??
Thanks for reading,
Kathleen
Linked Up at: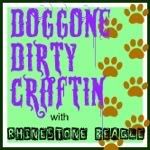 Simply Designing